Young Archaeological Club
Dr Enis Cezayirli and Dr Iris Cezayirli made a very welcome contribution to the Young Archaeological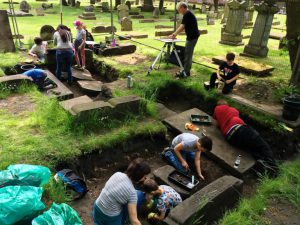 Club on the 22nd of December by helping identify a range of human remains which were excavated by the children of the Young Archaeological Club.  Due to there being a significant amount of fragmented remains and a number of animal remains their help in identifying them was much appreciated.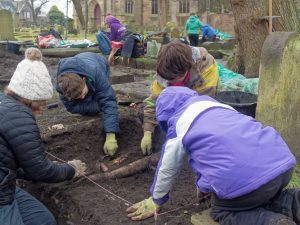 The remains were excavated at Dunfermline Abbey where the children are digging down around 60cm to map buried gravestones.  The remains found during the search for hidden gravestones are cleaned, inspected for any abnormality then weighed.  This will give some indication of the age, an idea of some of the diseases and health of the people buried there and the bone mass in the soil which can estimate how many people are in that part of the Abbey. Several curious things have been discovered too including a couple of grave robber deterrents.
All human remains will be reburied once the mapping of the gravestones is complete.