ScotGEM Community-Engaged Medical Education Event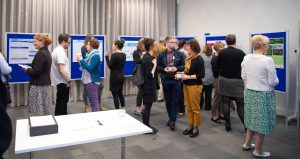 Medicine welcomed approximately 70 delegates to celebrate the partnership between the ScotGEM (Scottish Graduate Entry Medicine) programme and the third sector.
During their first semester of year 1, the ScotGEM students spend approximately 20 hours with a third sector organisation, learning about the valuable services they offer their communities.
The students were hosted in organisations who offered experiences in a diverse range of services; this had a profound effect on the students' understanding of the wider social determinants of health. The event enabled us to show our thanks for the enormous contribution that the third sector organisations have made to the ScotGEM programme, and our appreciation of their continued engagement.
We were privileged to welcome renowned external speakers John Loughton and Pat Armstrong OBE and were both informed and inspired by their lectures.
April Adam, Service Manager at FIRST (Fife Intensive Rehabilitation and Substance Misuse Team) delivered a thoroughly enjoyable organisational perspective describing their participation in the programme and ScotGEM student Dominic Pascoe gave an engaging talk about his experience at DAPL (Drug & Alcohol Project Limited).
There was an impressive selection of posters on display which were submitted by the students, showing the range of issues that were explored during their voluntary sector placements.
Thank you to everyone who attended and helped to make this such a memorable and successful morning.