Science Day at Kirkcaldy West Primary School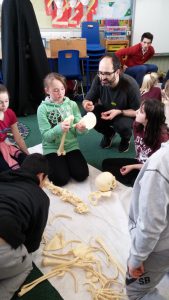 On Wednesday the 16th a Science Day for 210 primary 5, 6 and 7 pupils of Kirkcaldy West Primary school was organised by Henry Rae of the School of Medicine.  The Schools of Biology, Physics and Chemistry joined the day making it a very exciting and fun day for all the pupils and teachers.  The purpose of the day was to engage young people and promote STEAM subjects in a relaxed, fun and educational environment in order for them to develop a lifelong interest in science.  Also to enable pupils to interact with scientists who fulfil a variety of University roles from Medicine, Chemistry, Physics and Biology demonstrating that STEAM subjects and future careers in science are accessible to all.  Additionally, to establish the foundation for more advanced learning and future careers in the sciences and the technologies.
In Medicine the pupils learned all about skeletons and built a life sized skeleton they also did experiments in bone strength.  In Chemistry they made slime, magic inks and turned a copper coin into "gold".  In Biology they did experiments showing how whale sonar works and how to tag and track whales underwater.  In Physics they carried out experiments on how to predict volcanos, how to use infrared cameras and used seismometers in class experiments.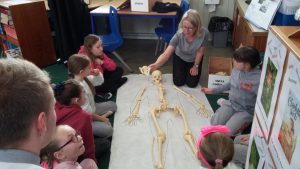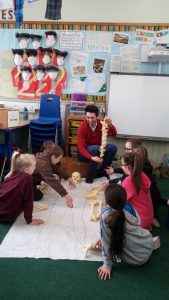 The day was a great success and we have received a great deal of positive feedback.  In conjunction with the Association for Science Education organisation I will be running two workshops for teachers in August.  One for teachers in Dundee, and one for Fife teachers.  I will use the KWPS event to showcase how the event was planned and executed.  I have also invited the Public Engagement Officer to these workshops to highlight outreach from the University as a whole to teachers.
Many thanks to the 17 strong team from St Andrews who pulled out all the stops to make this an incredible event for the pupils of Kirkcaldy West Primary School.
Alun Hughes, Sue Whiten, Jacob Michie, David MacFarlane, Claire Motion, Iain Smellie, Scott Sneddon, Leo Lu , Phil Nejman , Brian Chalmers, Matt Jones, Meg Waddell, Claire Brodie, Mark Johnston, Nathan Bailey, Rene Swift.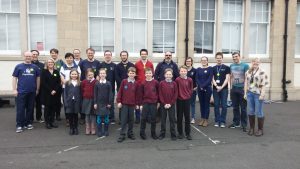 [x_video_embed no_container="false" type="4:3″]
[/x_video_embed]