Film awards for Medicine staff
For this year's 60 Hour Film Blitz, a competition organised by the Department of Film Studies where participants have to create a film in under 60 hours, Ian Gordon and Gary Barclay (together with Ian's brother, Dave) decided to try and keep things simple, but it quite didn't work out that way.
You may remember last year, Ian and his brother took home the Best Film and Best Actor prize for their film Deathnaid which saw the pair shooting scenes around the Hebrides before hastily high-tailing it to St Andrews to finish and hand in their movie. This year, Ian pledged to simplify the schedule:
"I wanted to shoot in a single location on the Friday and use Saturday and Sunday to get the edit right". Ian explained. "That worked in principal, but our idea this year made life a bit trickier than I'd anticipated."
This year, the theme of the competition was "Decades". Films had to be visibly inspired by this theme and under 3 minutes to qualify. Ian had an idea, but bringing it to life took some help from the community.
"Smokescreen" tells the story of a wartime Edinburgh Derby when Hibs played Hearts under some challenging circumstances. Not only did the team have to find a location that could pass as part of Easter Road football stadium in the 40s, but they had to simulate some extreme weather and assemble some broadcast equipment from the period.
Luckily, the St Andrews Tennis Club were happy to let the team film in their referee's room, which doubled up as our football commentary box and the Museum of Communication in Burntisland were incredibly helpful in finding Ian the right kind of equipment of the right vintage.
"They didn't just have the right kind of equipment, they had a huge selection of it from the war and knew everything there was to know about it"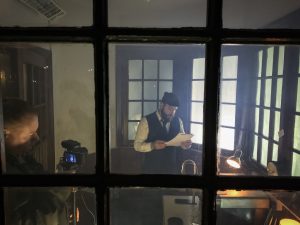 The location, the equipment and some special effects from Gary created the perfect look of a foggy commentary box in the 1940s and everything fell into place.
Screened last night at the Byre theatre along with the other entrants, Smokescreen was one of 4 films that looked back at the 1940s.
"The standard was really high this year. There was another entry from a local community film group and some great films from the students that were all so different in tone and approach".
Despite tough competition, Smokescreen won Best Film, Best Director and Best Actor at the 60 Hour Film Blitz screening and awards ceremony. Once again, Ian collected a prize announced by Joe Russo (Director of Captain America: Civil War and the upcoming Avengers: Infinity War). Presenting the award, Dr Tom Rice from Film Studies remarked to Ian that he was becoming the Meryl Streep of the Film Blitz.
Accordingly, Ian plans to cut his hair before next year.
Thanks to St Andrews Tennis Club and the Museum of Communication.