ECLS at Dundee Science Centre
As part of the British Science Week, visitors of the Dundee Science Centre had the opportunity to learn and talk about the ECLS early cancer detection test for lung cancer.  This event on the 16th of March was combined with a spectacular show on lungs and the body, which engaged the younger members of the public.
While sheep lungs were inflated on one side of the table, on the other side ECLS Chief Investigator Prof. Frank Sullivan asked visitors how they would feel about a lung cancer screening – would they take the blood test if it was available through the NHS?  They were also asked what would make it more likely for them to take part in a screening programme.
Using chickpeas and two glass jars, visitors could vote on whether or not they would take the blood test.  All votes were positive, with the most commonly given reason: "Why would you not want to know something that could save your life?"  Offering the screening as a finger prick and at various locations, such as the GP practice, the pharmacy or at home, would make people feel more inclined to take part.
Screening can help to detect lung cancer early.  Early detection is crucial for effective treatment in lung cancer, as when symptoms start to appear it is often already too late for treatment. The ECLS study evaluated a new blood test called EarlyCDT-Lung to detect lung cancer at an early stage.
The initial study results will be available on the ECLS website September 2019.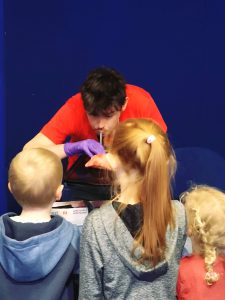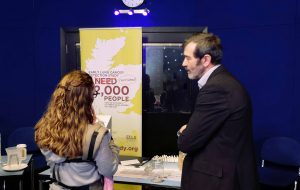 Public Engagement Officer Calum McAndrew and Professor Frank Sullivan at the Dundee Science Centre