Curiosity Live Festival
On Sunday the 17th June a team from St Andrews combined Art and Science in a new and interactive way to engage with medical research. Henry Rae, Dr Ourania Varsou, Dr Alina Loth, Gary Erskine, Dr Filip Zmuda and Dr Gustav Meibauer delivered an event called "Under the Skin" at the Curiosity Live festival at the Glasgow Science Centre.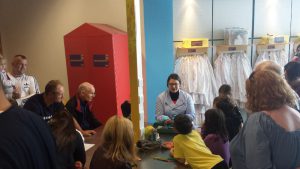 'Under the Skin' is part of 'Under the surface' – a multidisciplinary Public Engagement project at the University of St Andrews that brings together art and science to empower people to follow their curiosity. By providing unique access to skeletal and dissected specimens and models normally hidden away in store rooms of University collections, Natural History Museums or Zoos, this artist and scientist led workshops give participants the opportunity to be inspired by the science under the surface of the life models. Merging the creation of art with scientific inquiry about the anatomy and morphology of specimens and species, science capital is achieved through a profound ownership of the outputs (artwork) and both researchers and artists are inspired by the interaction.
'Under the skin' focuses on human and animal anatomy and morphology. The workshop's open and flexible format makes the activity especially inclusive and adjustable to learners needs, varying age groups, and changing delivery methods.
On Sunday, the team engaged with about 250 people at Glasgow Science Centre spaning all age classes. The scheduled dissections of pigs hearts and kidneys were especially well perceived and children could make their own fridge magnets as hearts, kidneys, lungs, or bones out of recycled plastic. Well known comic artist Gary Erskine (working for Marvel and DC comics) provided all visitors with a unique insight into the world of comics and the use of anatomical models for art.