World TB Day – 24 March 2021
Globally, Tuberculosis (TB) is the leading cause of death from a single infectious disease agent.  Our sustained research in St Andrews over the last 10 years (on the disease and the pathogen responsible) has developed global capacity to improve tuberculosis treatment and understanding of the disease.
Professor Stephen Gillespie recently spoke on an episode of the The Working Group on New TB Drugs podcast: The Dose, exploring issues and emerging solutions related to research and development of new tuberculosis drugs.
Scientists, Professor Stephen Gillespie, Dr Muge Cevik and Dr Derek Sloan in the School of Medicine are also leading the medical monitoring on clinical trials, SimpliciTB and TRiAD funded by EDCTP to shorten the treatment of tuberculosis.
The Clinical trials the group have completed have:
led to the delivery of new tools for tuberculosis control
led to evaluation of new treatments and diagnostic tools with VitalBacteria and developing further with LifeArc
used novel and repurposed drugs with colleagues in the PanACEA http://www.panacea-tb.net/ consortium
Methodologies and protocols have been designed and tested collaboratively with partners at trial sites http://med.st-andrews.ac.uk/tbtrials/simplicitb/ and regulators
Professor Gillespie, Dr Wilber Sabiiti and Dr Derek Sloan founders of Vitalbacteria have developed a molecular diagnostic test for detection and quantification of tuberculosis (TB) bacteria in patients TB-MBLA, further details can be found in the JoVE journal.
Through a Stakeholder conference held in 2018, which brought together health professionals and policy makers from 16 countries across the globe, and training 17 experts in a 2-day TB-MBLA technology transfer training session, University of St Andrews created an international users' group consisting of 30 groups in 18 countries globally for TB diagnostics and treatment management.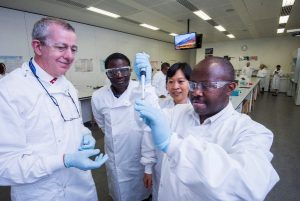 Hands on TB-MBLA training during 2018 Stakeholders conference