Top Prize at 60 Hour Film Blitz!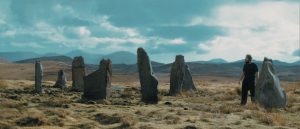 Ian Gordon scooped up the top prize in this year's 60 Hour Film Blitz, a competition run by the School of Film Studies where participants have to make a film within a 60 hour timeframe.  The clock started ticking on Friday morning at 10am when Ian and his brother Dave boarded a ferry for the Outer Hebrides – not content with the challenges of shooting a film in such a short space of time – the team had decided to travel around a number of remote locations to get some dramatic outdoor scenery.  Sailing back less than 24 hours la ter, with not much sleep and a memory card full of footage, Ian then had one day remaining to edit the film and hand it in before 10pm on Sunday night.
Ian described some of the challenges: "We battled through every type of weather imaginable – rain, snow, gales and a few rare sunny spells – and I was constantly stressed about getting the footage we needed to make the story coherent, but it was an adventure and it paid off".
All 18 entries were screened last night at the Byre Theatre with the winners in various categories being awarded at a glitzy after-show ceremony.
"This is our second year, but it's the Film Blitz' 7th and the standard is always quite high, mainly due to the imagination and creativity of the St Andrews community."
Ian picked up Best Actor, an award he attributes to his ability to look lost and confused under pressure.  The organisers then handed over to Joe Russo, director of 'Captain America: Civil War' who skyped in from the US to announce the runner up and Best Picture.  Ian'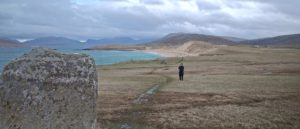 s film 'Deathnaid' (which is an old Scottish Gaelic word for a sheep that has become separated from its flock) took Best Picture and was praised for its imagery, camera work and clever execution.
Joe Russo then invited members from the winning teams to the set of the new Avengers film next month.
"I was really bowled over. To get a chance to speak to Joe Russo again was a real buzz, as was having an audience see your work. Making the film was hard work at the time, but we enjoyed it and the prizes were the cherry on the cake. I think my wife is looking forward to me using my Best Actor prize soon."
What was the prize for Best Actor? A haircut at a local salon!