Space School
On Saturday the 13th of May 58 P6 children took part in Space School at the School of Medicine.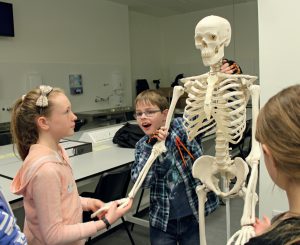 Henry Rae, Mike Fearon, Dr Ourania Varsou and Dr Enis Cezayirli delivered interactive space sessions about ventilation, skeletons, balance and internal organs.  The day ended with a quiz (EXAM) to see if the children had absorbed any of the information and we were very pleased about the results of the quiz.
Space School
Space School is all about bringing science and technology to life at an early age to inspire children to study STEM subjects.  Working with Fife Council, this project is aimed at pupils in primary schools and takes place in collaboration with a number of academic Schools within the University.
Workshops run from January to June and are themed around space, dovetailing with the National Curriculum for Excellence.  The project culminates in a special Space School in the summer, where pupils get to meet NASA astronauts, scientists and engineers.
Workshops focus on links with the following academic Schools:
Biology
Medicine
Chemistry
Computer Science
Earth and Environmental Sciences
Geography & Sustainable Development
Mathematics and Statistics
Physics and Astronomy
Psychology and Neuroscience
Following the end of the summer school, pupils are invited back to the University on specially designed Space School returner days, keeping a strong link to higher education.