Science Discovery Day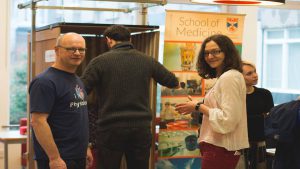 At the recent Science Discovery Day in the School of Physics Henry Rae, Ourania Varsou, Julie Kanya, Christopher Lowe, and Monika Gostic with Andy Owen and Jean Bain from Heart Start delivered Medical Science sessions to visitors.
Our team offered visitors a chance to test how quick their reaction time was and experience why using a mobile phone while driving is a BAD idea, how your eyes can trick you into losing your balance and had a chance to learn how to save a life with CPR and a defibrillator.
The event had over 600 visitors. Our team had a great time and did a great job. Many thanks to the School of Physics for organising and hosting the event.