Cycle the Americas
Danny Beech a 3rd year medical student at St Andrews and Chris Lally (School of Physics) have been awarded the R&A international scholarship for 2015.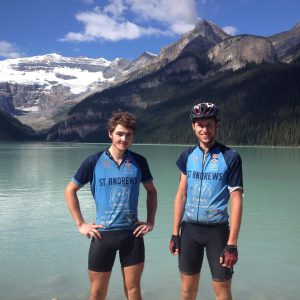 They are going to attempt to break the World Record for the fastest time to cycle the Pan-American Highway, from the top of Alaska to the bottom of Argentina, starting at the end of July.  Their plan is to average over 140 miles per day over this 14000 mile journey which takes them down the spine of the Rocky Mountains, through the tropical climate of Central America, across the lifeless Atacama desert and finally over the Andes towards Patagonia.
You can track their progress online via a tracking device and twitter updates at www.cycletheamericas.co.uk.  They are also raising money for Headway, the brain injury association.