Visit to Kilimanjaro Clinical Research Institute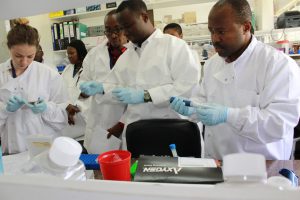 Led by Dr Wilber Sabiiti, the University of St Andrews Molecular Bacterial Load Assay (MBLA) implementation Team recently ran training at Kilimanjaro Clinical Research Institute (KCRI), Tanzania.  Sponsored by the European Developing Countries Clinical Trials Partnership (EDCTP) funded Pan African Consortium for Evaluating Anti-tuberculosis antibiotics (PanACEA) II consortium through the St Andrews-led Biomarker core, the 4-day training attracted 18 trainees from 6 African countries, Gabon, Malawi, Mozambique, South Africa, Tanzania and Uganda.  PanACEA aims to imporve the effectiveness of anti-tuberculosis medicines through trialling novel drug combinations.  Professor Stephen Gillespie from the University of St Andrews has been one of the PanACEA chief investigators for over 8 years.
Two clinical trials 1) Sutezolid Dose-finding and Combination EvalUation (SUDOCU) and Selection Trial with Extended Post-treatment follow-up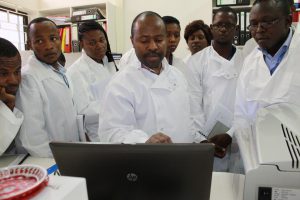 (STEP 2B/C) will be run as part of the PanACEA II programme.  A lecture explaining the rationale of the two clinical trials and why MBLA is important was given to the course participants by Dr Derek Sloan via video link from the University of St Andrews.  MBLA is a St Andrews developed test that measures the tuberculosis burden of a patient and monitors patient response to treatment in a matter of hours.  The tuberculosis bacteria burden of patients responding well to anti-tuberculosis therapy decreases with time on treatment.  This culture-free test is the first of its kind in the world of bacteriology and has recently been recognized by the World Health Organization as a candidate to replace the methods for monitoring tuberculosis treatment.  University of St Andrews PhD students, Bariki Mtafya and Evelin Dombay along with Dr Sabiiti constituted the training team. The training team was joined by Mr Davis Kuchaka of KCRI and Dr Lavinia Rodney (PanACEA II quality manager) of University College London.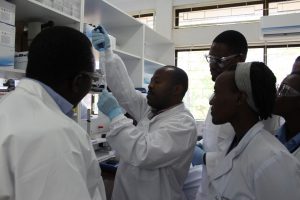 This training is a step towards realisation of the vision of the St Andrews tuberculosis research group to take MBLA to global application.  Funded by SCF/GCRF through the University of St Andrews Research Impact Office, the tuberculosis research group is skilling as many MBLA test users as possible across the world.  Researchers in over 10 countries in Africa, Asia and Europe are currently applying the MBLA test and/or have been trained to apply the test.  Singapore will soon add to the list of the countries where MBLA has been applied.