Visit to Improvement Academy at NHS Tayside
On 26th March ScotGEM students travelled to the Improvement Academy at NHS Tayside, to join with students from University of Dundee School of Medicine for what was a hugely successful and engaging morning of learning and interaction between the two Schools, with the theme of 'Making A Difference'.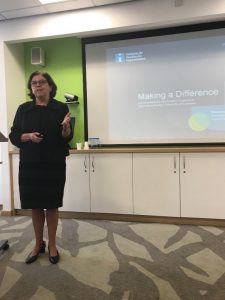 We were privileged to welcome Maureen Bisognano as our keynote speaker; Maureen is President Emerita and Senior Fellow at the Institute for Healthcare Improvement in Boston USA, and an internationally renowned authority on improving healthcare systems.
The ambition of the ScotGEM programme is to produce clinicians who will contribute to their local communities and the health service whilst training.  The students were delighted to meet the University of Dundee medical students who are currently working on a number of healthcare improvement projects.
The Universities of St Andrews and Dundee are working closely together to deliver Scotland's first graduate-entry undergraduate medical programme, which is tailored to meet the contemporary and future needs of the NHS in Scotland, with a focus on rural and generalist medicine and Agents of Change.