Townsend and Gown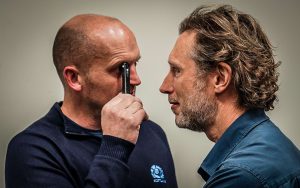 The St Andrews Rotary Club hosted an evening of conversation and questions with Gregor Townsend MBE, Scotland Rugby Head Coach, to raise funds for the School of Medicine Arclight project.
Arclight is a new revolutionary handheld solar-powered diagnostic tool to help in the fight against preventable blindness and deafness.
Student Alex and graduate Merlin are currently undertaking an eight-month cycling expedition over 10,000 km from Cairo to Cape Town to distribute 2000 Arclight devices to medical practitioners in low income countries.
You can find out more about Arclight and the expedition, and donate to Alex and Merlin's crowdfunding page, through SaintsFunder.
Caption: Gregor Townsend (left) tries out the Arclight on the School of Medicine's Dr Andrew Blaikie
Article: Christine Tudhope
Image: Glen Kennedy