Scottish Ophthalmology Club Prize
Rebecca Blundell, a student on the BSc International Health at the University of Dundee has recently won first prize for her presentation at the Scottish Ophthalmology Club.  Her talk was titled:
A Mixed-Methods Evaluation of a Novel Solar Powered Low Cost Ophthalmoscope (Arclight) by Healthcare Workers in Malawi Using theTechnology Acceptance Model
Rebecca's thesis was supervised by Dr Andrew Blaikie, a member of the Global Health team at St Andrews.  This is the 'Blaikie' team's 6th win in 6 years at this meeting and so we were all really pleased at continuing the good run.
http://www.s-o-c.org.uk/meetings-details.php?mid=14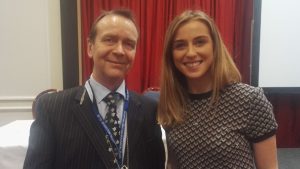 Rebecca is pictured with Alisdair Fern, President of the SOC