School of Medicine makes good a wartime omission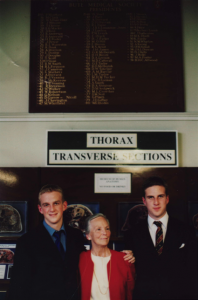 First Female President of the Bute Medical Society – and still going strong at 91!
In 1945 Muriel Nicoll was co-president of the Bute Medical Society, this was the only occasion in 101 years that there was a co-president and only then because D. Garrow, the president, was unable to continue on the course due to contracting poliomyelitis. Muriel's initial was never added to the board and her name was lost to history until her granddaughter Anaïs Boulon started a course in Sustainable Development at St Andrews.  The matter was brought to the attention of the school and a sign writer was contracted to add the missing initial in the same form of gold leaf used in 1945.
Muriel started her academic career precociously early by insisting on attending the village primary school in Errol alongside her sister Rhoda who was two years her senior.
By the time she was 18 she had graduated from Dundee with a degree in Modern Languages – having managed to achieve proficiency in tennis and figure skating, qualifications in piano and ballet and spent 6 months at L'Ecole Alsacienne in Paris just before the outbreak of war.
Muriel then decided to follow her older sister into Medicine undaunted by the fact that she hadn't taken science at school she was delighted to be accepted as a student at St Andrews. When the president of the Bute Medical Society had to drop out due to health problems half way through the year she deftly stepped into his shoes becoming the first female president of the society.
She is thrilled that three of her six grandchildren have attended her alma mater and enjoys pointing out her former lodgings and the ideal spots for revising in the sand dunes , recounting student pranks and the dancing skills of the charming Polish officers.
Perhaps after this flying start it's not surprising that she continued to have an exciting and challenging life.
The 50s saw her busy with 3 small children and running mother and baby clinics in Lochaber – just like Call the Midwife !
In the 60s she went back to university and armed with a Diploma in Social Medicine worked for the Medical Research Council then followed her husband John to Bhutan where they worked with leprosy.
After a short interlude in Aberdeen they went back to Bhutan for 3 years and established the Health School in Thimphu which trains local health care workers and is still going strong.
On her return to the UK Muriel ran antenatal and child welfare services in Grampian and then finished her career with 5 years teaching Epidemiology at the University of Aberdeen.
Muriel and John retired to Speyside – or at least semi-retired.  They spent the next 10 years working pro bono in Yemen until they felt their medical
skills were getting near their 'sell by date'.
Sitting around has never been one of her characteristics – she has only recently given up skiing and hillwalking .
Volunteering has always had a place in her life – she has run youth groups, delivered meals on wheels, worked in drop-in cafes and taught English to anyone who needed to improve their language skills both here and overseas .
At 91 she is currently exploring volunteering opportunities near her new home in Edinburgh.
Muriel has used her natural aptitude for learning languages all her life.
She spent the summers of '46, '47, '48 and '49 in France – gaining an impressive degree of fluency and a lifelong love for France and all things French.
Following her start in French and German she has learned some Bhutanese, Tibetan and Arabic along the way and is currently learning Spanish just for fun.
All of this she carries off with elegance, grace and style and a great sense of fun.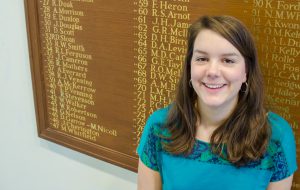 Anais Boulon pictured with the updated board