Research team looking at the use of UVC light to kill viruses
New research is analysing the use of UVC light to see if it can prevent the transmission of airborne viruses. The project was awarded an Innovate UK Grant of £296,000 to investigate the safety and efficacy of UVC light. 
The project brings together physicists, astronomers, virologists, biologists, radiation safety experts, and optics researchers from NHS Ninewells, Universities of St. Andrews, Dundee, Leeds, Heriot Watt University and Columbia University and local companies Fluid Gravity Engineering and Ten Bio. The research team is utilising Ten Bio's advanced ex vivo human skin models to research how UVC light reacts with the skin.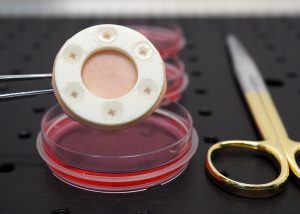 Dr Robert Hammond, a research fellow at St. Andrews, is also working on the project to investigate bacteria that naturally live on the skin and analysing the sterilising effect of UVC light sources and any potential mutations that occur. This research is important since UVC light doesn't naturally occur on the Earth's surface, there is a possibility that bacterial DNA could be damaged as UVC light can penetrate bacteria differently than it does skin. 
The COVID-19 pandemic has brought projects focusing on ways of controlling viral transmission to the forefront of research. Overall, UV light is very good at sterilising surfaces and equipment but both UVA and UVB are known to be dangerous. Preliminary results show that UVC light, which is absorbed by the atmosphere before it reaches the surface of the earth, does not penetrate skin to the same extent as UVB and UVA which can lead to skin cancer or photoaging. Because of this relative safety, the research proposes to use UVC light to kill coronavirus particles in the air and surfaces without damaging human skin. 
The project will last 18 months and, if successful, UVC light could be used to significantly reduce the risk of person-to-person indoor transmission of COVID-19, as well as other diseases such as influenza. For the next steps, the research team hopes to do the same study on humans in a controlled manner.