New blood test trialled on 12,000 Scots catches lung cancer early
Lung cancer is the most common cause of death from cancer in Scotland, with a quarter of all cancer deaths attributed to lung cancer. The current five-year survival rate is approximately 60% for stage I lung cancer but is only 1% for those with stage IV disease. The ECLS study, led by Professor Frank Sullivan, was the largest randomised clinical trial using blood biomarkers for the detection of lung cancer conducted anywhere in the world. It involved 12,209 people who were at elevated risk of lung cancer because of smoking and/or family history. The results showed a 36% reduction in late stage diagnosis after 2 years of follow up for those who received the EarlyCDT Lung test, compared with standard clinical practice.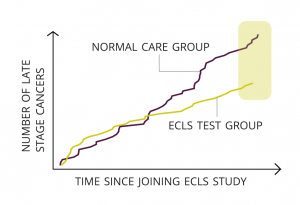 Among those people who received the EarlyCDT Lung test and went on to develop lung cancer within the next two years, 41% were diagnosed at an early stage (stage 1&2) of the disease, compared with 27% among the control group. These landmark findings are likely to have globally significant implications for the early detection of lung cancer by showing how a simple blood test, followed by CT scans, is able to increase the number of patients diagnosed at an earlier stage of the disease, when surgery is still possible and prospects for survival much higher. The next step will be to move to a larger population-based evaluation in up to 200,00 patients to assess the implications of diagnosis with EarlyCDT Lung on survival and mortality in a real-world setting.
The trial was sponsored by the University of Dundee and NHS Tayside, and co-funded by grants from Oncimmune Ltd, the test manufacturers, and the Scottish Government Health & Social Care Directorate of the Chief Scientist Office (CSO).