Launch of Network for Improving Quality of Care for Maternal, new born and Child Health in Lilongwe, Malawi
Malawi and eight other countries committed to halving deaths among mothers and their new-born children in health facilities within the next five years.
These countries have formed a network which is supported by WHO, UNICEF and other partners. Including the Partnership for Maternal, New-born and Child Health. This network was launched on 14-16th February in Lilongwe, Malawi.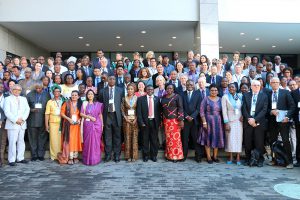 Attendees of the event to launch the nine-country network to halve maternal and new born mortality
Dr Queen Dube, Clinical Head of Department of Paediatrics and Child Health at QECH, Blantyre and Dr Bernadette O'Hare, College of Medicine, deputy academic Head of Department attended the launch of this networking event on behalf of PACHA.
In Malawi, the Paediatric and Child Health Association (PACHA) in partnership with the Ministry of Health and UNICEF have designed a course, called the COIN course and have trained 300 health workers from 24 facilities in order to move towards this goal. PACHA provides bi directional mentorship and has trained 32 preservice lecturers on this course with a view to introducing neonatal care into preservice training.