Generalist Clinical Mentors
Year 2 Generalist Clinical Mentor Recruitment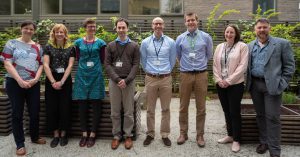 We have recently appointed nine new Year 2 Generalist Clinical Mentors (GCMs) and one new Year 1 GCM to the ScotGEM programme!
The GCM post is a senior lecturer working with ScotGEM students. Teaching clinical skills, mentoring and facilitating learning sessions in a general practice setting and supporting students with other work including emergency care and project work using a holistic approach.
Each GCM will have regular contact with the ScotGEM students throughout their ScotGEM experience. Alongside their teaching roles, GCMs facilitate early patient contact in the curriculum and are invaluable in creating a strong community-based ethos, which is central to the ScotGEM programme.
We have an additional Year 1 GCM who is joining our other eight GCM's working in NHS Fife.
Of the Year 2 GCMs, four will be based in NHS Fife, three in the NHS Highlands and two in NHS Dumfries & Galloway.
We were delighted to be able to introduce them to our current GCM's and welcome them to St Andrews University School of Medicine on 21st -23rd May. This preliminary induction will be followed in June and July by a more intensive training programme and further regional induction within their NHS board.
Our current Year 1 GCMs will be on hand to offer expert advice a during the training programme in the summer.