Dorothy Miller bursary presentations: Sharing experiences in Malawi
The three students who were awarded Dorothy Miller Bursaries this year, Sofia Garcia Agudo, Sarah Alvi and Sarah Eshkour, gave great presentations about their experiences in Malawi this summer to an audience of interested second year students and members of staff on Friday 4th October 2019. The session was hosted by Dr Derek Sloan, who gave a background to the Dorothy Miller bursaries, introduced the speakers and facilitated a brief discussion after each presentation.
All three students highlighted how much they benefitted from the experience and reflected on some of the challenges they faced. The Dorothy Miller Bursary award is made possible through the generosity of the Miller Family.
This year, there was a special guest presentation from Malawian ENT nurse Emily Kwenda. Emily is currently  a Visiting Scholar with the School and is in Fife undertaking training under the banner of the Ungweru Project. The Ungweru Project is a partnership between ENT doctors and nurses in NHS Fife and the School of Medicine. It aims to improve ENT care in Malawi by sharing expertise and knowledge through training.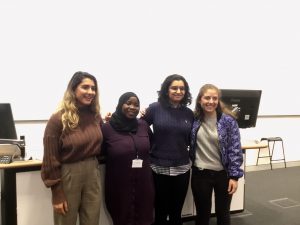 left to right: Sarah Eshkour, Emily Kwenda, Sarah Alvi, Sofia Garcia Agudo