Award at the Annual 60 Hour Film Blitz Community Film Festival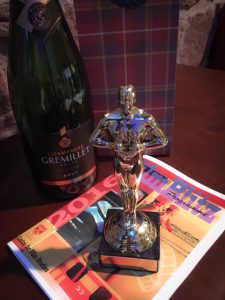 The big date in the awards season finally arrived on Thursday 10th March as the Department of Film Studies staged their annual 60 Hour Film Blitz Community Film Festival.  The competition, which was open to anyone within the St Andrews community, saw 19 short films screened at the Byre Theatre in front of a packed out crowd.  All of the films were shot and edited last weekend starting at noon on Friday and finishing at midnight on Sunday.
Ian Gordon from the School of Medicine decided to have a go and enlisted a couple of helpers to shoot a creepy 3 minute movie called Last Effects which sees a man going to clear out his parents house following their death only to discover that they have been hiding something from him.
After the screening, top Hollywood director/producer Joe Russo (director of Captain America: The Winter Soldier) skyped in from LA, fresh out of a press junket, to give his verdict on the shortlisted top five films.  Last Effects was among them and Ian chatted briefly with Joe as he praised the 'naturalistic' acting and story – which is praise indeed from a director who had Robert Redford in his last film.  It was another, quite excellent horror film "Hans Føggler" that picked up the Best Film award.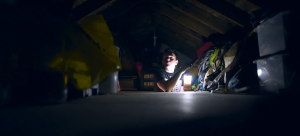 Last Effects didn't leave empty handed though, the film won the Best Actor award for its star Clarke Bell who, much like recent Oscar winner Leonardo DiCaprio, was willing to suffer for his performance and agreed to shave off his beard…
Ian would like to acknowledge the high standard of films in this year's festival, the hard work from his team and unwavering support from the wives of those involved who looked after babies and toddlers all weekend (over Mother's Day) and proved that they're far too tolerant of this sort of nonsense.