Season 2 of 'Poems for Doctors' is coordinated with the 70th Anniversary of the UK National Health Service.
Readings in Season Two will lead up to July 5th when the NHS celebrates its 70th birthday.
We're very pleased to start our second season of medics reading poems from Scottish Poetry Library's anthology 'Tools of the Trade: Poems for New Doctors'. We hope you enjoy the readings, your thoughts and comments are welcome.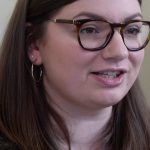 The first poem in season 2 is read by Medical Demonstrator Linda Proven – On Hearing for the First Time by Carole Bromley.