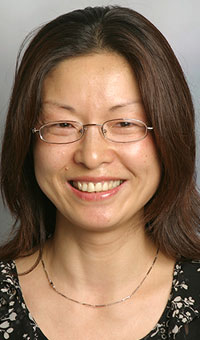 Dr Yuefang Zhou

Research Fellow
I came to the UK in 2002, having taught English in China for ten years. I was awarded an MSc with distinction in Applied Research Methods in 2003 and a PhD in 2006, both by the University of Dundee. My knowledge of statistics and interest in psychological processes helped me to complete my first post-doctoral project (2007-2008) at the School of Psychology, University of St Andrews, which investigated the effects of group identity on behavior change.
Since December 2008, when I started to work with Professor Gerry Humphris in the School of Medicine, my research interest has extended into health psychology, particularly on healthcare communication. I was the Research Fellow on a three-year project, funded by the Scottish Government, investigating how dental nurses encourage young children to accept an oral health intervention. One major outcome of this project was the development of a specific behavioural coding scheme to measure interactive behaviours of both dental nurses and nursery-school children. We also adopted multilevel behavioural sequential analysis approach to studying behavioural relationships, taking account the effects of factors at individual and contextual levels.
Since 2012, I have been working on various projects on healthcare communication, involving drug user patients and dental patients with complex communication needs. One common theme of these projects is to explore how healthcare professional's response to patient emotional distress relates to healthcare outcomes.
See also:
data source: symbiosis