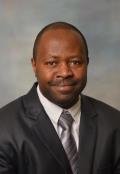 Dr Wilber Sabiiti

Senior Research fellow in Medicine
Dr. Sabiit's story and interest in Infectious disease research begins with Makerere University, Uganda where he graduated as a Biochemistry major and immediately joined Dr. Lali Ferdinand's laboratory to investigate the pathogenesis of Buruli ulcer disease. This work opened the new horizon of host – pathogen interaction and its importance in the disease process. To have a better understanding of this phenomenon he joined the Free University of Brussels, Belgium for Master of Science in Molecular biology with a focus on mechanisms of disease in humans.
Shortly after graduation he joined the University of Antwerp's Medical microbiology laboratory where he evaluated commercially available molecular diagnostics for accurate detection of Methicillin resistant Staphlococcus aureus (MRSA) and Vancomycin resistant enterococci (VRE) and recommended he most accurate diagnostic for use in the Europe-wide clinical trials combating antimicrobial resistance within communities and Hospitals.
Building on this great experience he joined Prof. Robin C. May laboratory at University of Birmingham UK for doctoral research on mechanisms of brain infection in cryptococcosis followed by a postdoctoral stint at St. Georges University of London, investigating pathogenicity markers of poor clinical outcome in HIV-associated cryptococcal meningitis.
Joining Prof. Stephen Gillespie's team at University of St. Andrews marked the shift to focusing on the fight against tuberculosis (TB). Dr. Sabiiti has since, coordinated several multi-national projects involving the UK and Africa and currently Principle Investigator of the EDCTP funded TWENDE project that is investigating ways to accelerate translation of health research innovations into policy and practice in East Africa. He has trained over 20 scientists and clinicians from Africa, UK, Europe and Asia in principles of Molecular bacterial load assay (MBLA), an assay that quantifies patient TB burden in as short as 4 hours and tell whether they are responding to anti-TB therapy. MBLA is undergoing commercialisation into a commercial kit and Dr. Sabiiti is working closely with Prof. Gillespie to make it a success.
data source: symbiosis