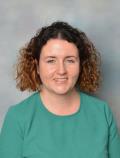 Dr Veronica O'Carroll

Deputy Director of Teaching (Quality Assurance & Enhancement)
Veronica is a Lecturer and Deputy Director of Teaching (quality assurance and enhancement) for the BSc (Hons) and ScotGEM programmes. She is also a member of the Medical Student Support team.
She holds a PhD (Psychology, University of St Andrews), MSc (Education, Queen Margaret University), PGCertHE (Queen Margaret University), BA (Hons) (Nursing, Buckinghamshire Chilterns University College) and is a Fellow of the Higher Education Academy.
As a Registered Nurse, Veronica has worked in areas of general medicine, surgical, renal medicine and telehealth. She continues to maintain her professional registration with the Nursing and Midwifery Council.
She took up her first academic teaching post in the School of Medicine in 2007, initially teaching clinical skills and then as a Clinical Lecturer in Interprofessional Education. In 2014, she went on to work in the University of Dundee as a Lecturer in the School of Nursing and Health Sciences. In 2017, she returned to the School of Medicine.
Veronica's research interests include interprofessional education and interprofessional collaboration
Outwith the university, Veronica is involved in various roles including:
Board member of the Centre for the Advancement of Interprofessional Education (CAIPE)
Chair of the CAIPE research group
Member of CAIPE student committee
External examiner (Glasgow Caledonian University, School of Health and Life Sciences)
Reviewer for the Journal of Interprofessional Care
Member of the Scottish Clinical Skills Network
data source: symbiosis