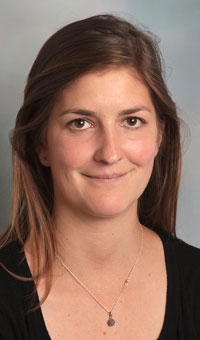 Dr Samantha Pitt

Royal Society of Edinburgh Biomedical Fellow
Samantha Pitt graduated from the University of York in 2002 with a BSc (Hons) degree in Biology. She then went on to complete a PhD in Cellular Physiology at the University of Cambridge graduating in 2006. Following two postdoctoral positions studying mechanisms of ion-channel regulation, one at University College London (Department of Pharmacology) and one at the University of Bristol (Department of Pharmacology) she moved to her current position as a Royal Society of Edinburgh Biomedical Fellow in the School of Medicine, University of St Andrews.
Throughout her career, Samantha's main focus has been the role of ion-channels in mediating and regulating intracellular Ca2+-signals.
The release of Ca2+ from intracellular stores within the cell is essential for a diverse range of fundamental processes including muscle contraction, fertilisation, cell division and neurotransmitter release. Using electrophysiological approaches Samantha is interested in the study of intracellular ion-channels that are involved in the control and regulation of Ca2+-release in health and disease.
https://synergy.st-andrews.ac.uk/metalion/
data source: symbiosis
In healthy individuals, the controlled release of calcium causes the heart to beat strongly.  Calcium is released through specialised gates called ryanodine receptors (RyR2). In patients with heart failure and fatal arrhythmias the release of calcium becomes erratic leading to weakened contraction of heart muscle and cell death. Using a combination of low noise electrophysiological recordings in combination with molecular and biochemical methods my group investigates intracellular calcium dynamics and the molecular function of RyR2 and other ion channels that are present on intracellular organelles. The aim of our research is to try to understand what happens to channel function under pathophysiological conditions.
source: research@st-andrews