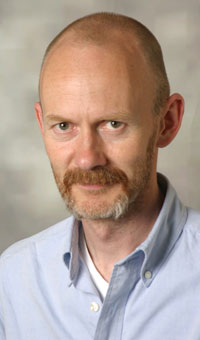 Dr Simon Powis

Reader
I graduated from the University of Glasgow with a BSc (Hons) in Immunology in 1986, and then undertook PhD studies at the University of Cambridge, based at the Babraham Research Institute, graduating 1990. Two postdoctoral positions followed at Babraham, followed by a move the University of Dundee where I held a Wellcome Trust Career Development Award (1995-1999) and then an MRC Senior Fellowship from 1999-2004. In 2005, I moved to my current post in the School of Medicine at the University of St Andrews.
Throughout my career, my main research focus has been a group of molecules in the immune system called the Major Histocompatibility Complex (MHC) class I molecules. These proteins are involved in protection against viral infections, cancer neogenesis and transplant rejection. I have been closely involved in characterizing how these MHC class I molecules assemble inside cells, where they undergo a complex series of quality control tests before being delivered to the cell surface for scrutiny by T lymphocytes and Natural Killer cells.
I am also studying one particular MHC class I molecule termed HLA-B27, which is closely involved in the development of a type of inflammatory arthritis of the spine called ankylosing spondylitis. If we can understand the role HLA-B27 plays, we will be able to develop novel therapeutic strategies.
With regard to teaching at the School, I deliver a series of lectures to medical students describing how the immune system works and what can happen when it goes wrong.
School Roles:
Postgraduate ProDean – oversight at faculty-level of postgraduate student business
Module Controller – MD5102, a series of research-focused seminars for the MRes degree.
Centrifuge Curator – fixing them when they go wrong.
data source: symbiosis
The immune system relies on the ability to detect when cells are virally infected, or potentially tumorigenic, and to specifically eliminate these cells. This is achieved by the actions of Major Histocompatibility Complex (MHC) class I molecules, which bind small peptides from the proteolytic turnover of proteins in the cytoplasm, and present these peptides on the cell surface to T lymphocytes. Detection of viral, or non-self, peptides can stimulate the generation of potent anti-viral cytotoxic T lymphocyte responses.
One particular human MHC class I molecule, HLA-B27, is also strongly associated with a type of inflammatory arthritis known as ankylosing spondylitis. The reasons for this association are still unclear, and we are therfore applying our knowledge of MHC class I assembly to this topic.
source: research@st-andrews