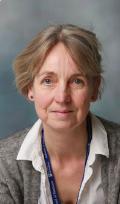 Dr Ruth Cruickshank

Senior Teaching Fellow and ProDean (undergraduate studies)
After graduating from the University of Edinburgh with MBChB, I gained full medical registration before pursuing a career in anaesthesia. I undertook most of my post graduate training in Glasgow, passing my FRCA in 1990. I currently have a clinical commitment with Fife Acute Hospitals Trust of 2 days each week focused on providing anaesthesia for patients having trauma or dental surgery.
School Roles:
Pro Dean (student support undergraduate)
Senior Clinical Teacher
School of Medicine Management Group
Faculty Executive Group
Joint lead Personal Tutor Scheme
Responsibilities of the Pro Dean of Medicine include oversight, on behalf of the Dean, of academic and pastoral affairs of undergraduate students in the Faculty, including advising; status changes, such as leave of absence; termination of studies; handling of appeals, and corresponding with Local Education Authorities and other external bodies concerning student matters.
As Senior Clinical Teacher I liaise with clinicians in Fife Acute Hospitals to organise short clinical attachments for third year students. In addition I teach Clinical Medicine to students in all 3 years of our curriculum. Initially I teach 1st year students introducing clinical methods within the security of the School environment. As students progress through 2nd and 3rd years I move with them within the Fife Acute Hospitals to teach at the bedside. I very much enjoy seeing the students progress and gain confidence in their clinical skills and knowledge.
Research
I am a member of the School medical education research group and each year supervise students researching their Honours project in the area of medical education. I am currently looking at strategies to enhance student support systems for undergraduate medical students.
data source: symbiosis
8  (of 8 published available) for rc24. (source: University of St Andrews PURE)
Please click title of any item for full details