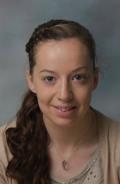 Ms Kerry Falconer

Postgraduate student
I graduated in 2015 from the University of Abertay, Dundee with a degree in Applied Biomedical Science. As part of my degree I undertook an 18-week clinical placement in Immunology in Ninewells Hospital, Dundee and completed my Institute of Biomedical Science registration portfolio.
Under the supervision of Prof. Nikolai Zhelev my final year thesis was based on the prevention and reversion of cardiac hypertrophy with Piceatannol in human "miniature hearts" derived from human embryonic stem cells.
I am currently undertaking an MRes in medicine at the University of St. Andrews. I am delighted to have the opportunity to work alongside the infection group and to work under the supervision of Prof. Gillespie.
My research will focus on optimising a molecular load assay for H influenzae utilising ribosomal RNA (rRNA) to monitor treatment response in patients with Chronic Bronchial Sepsis.
data source: symbiosis
0  (of 0 published available) for kjf3. (source: University of St Andrews PURE)
Please click title of any item for full details