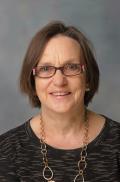 Mrs Julie Struthers

Deputy Head of School (Teaching) Learning Technology Consultant
After graduating from the University of St Andrews with a BSc(Hons) Physiology I started work as a Cytogeneticist in the University of Glasgow. Later I trained as a teacher and gained CertEd from the Jordanhill College after which I taught for a few years. Since then I have worked as a molecular geneticists, co-ordinated an international surgical research project and been an elearning developer. In 1992 I helped set up the Cuschieri laparoscopic surgical skills training unit in Dundee. This cutting edge unit stimulated my interest in technology and the potential for using the internet for teaching. In 2005 I gained a Masters in Advanced Learning Technology from the University of Lancaster through a distance learning programme and this stimulated my interest and drive to make the best use of technology in learning and teaching.
My work
My role as Deputy Head of School (Teaching) is to represent and support the Dean of Medicine in his absence. I am an active member of the School Management team and of the Operations group.
As Learning Technology Consultant my role is to promote innovation in the use of technology to benefit learning, teaching and research throughout the curriculum. I have a particular interest in curriculum management systems and how these are evolving with the rapid changes in web applications. I have led a team developing a bespoke system called Galen designed to manage the administrative, educational and practical aspects of an integrated, spiral curriculum. The development of Galen to suit the needs of a medical school curriculum is an ongoing project. My recent focus has been on the introduction of an IP based video capture system for teaching, assessment and research purposes.
Current focus
Use of video in Clinical Medicine teaching and assessment
Introduction of online marking for OSCE exams
Encouraging and support innovation in large group teaching
Use of clickers in teaching
The continual development of an integrated curriculum management system
Use of text messages to collect quality feedback on teaching
I am part of the team from the University of St Andrews which has supported the introduction of a new Medical Curriculum in the College of Medicine in Malawi. My role was to help them make the best use of technology to support the delivery of this new curriculum. This initiative has been extended to other healthcare subjects and to other campuses in Malawi.
On the curriculum side I work closely with Dr Mark Ford to plan develop, implement and assess the students' electronic personal development portfolio. I have been particularly involved in the development of a series of structure tasks designed to develop the students' skills of reflective practice. We are now focusing on the mapping of these tasks to Good Medical Practice and extending the skills of students to fully understand their personal development portfolio and the requirements for the future.
My School Roles
Deputy Head of School (Teaching)
Member of the School Management Team
Member of the School Operations Group
Lead for Learning technology team
Chair Learning Technology Committee
ePortfolio- development and implementation
Curriculum evaluation
Supervisor for dissertation projects in Medical Education
data source: symbiosis
My main research interests are in
The use of technology to support learning
Research Teaching Linkages
ePortfolios
use of video in learning and teaching
I am currently evaluating the use of text messages to gather feedback from students on clinical placements.  In addition have a particular interest in curriculum management systems and learning environments and how these are evolving with the rapid changes in web applications and mobile devices.
I was project leader for a QAA enhancement theme on Research Teaching Linkages and graduate attributes, particularly in relation to Medicine. Work on this area is continuing with further data collection, analysis and writing in this area.
Portfolios are a key part of the Medical Curriculum and I have worked working closely with the academics over the past few years in the development of an ePortfolio. We have developed a series of structured tasks to develop the students' skills of reflective practice. Our portfolio focuses on the planning, recording and reflecting on learning throughout the Professional areas of the curriculum. We plan to further develop the portfolio within the School and fully integrate it into the curriculum and make the best use of technology to achieve this.
Up and coming work
We have recently installed a video capture system throughout the School to be used in clinical and communication skills teaching.  This is to be used for teaching, sel- assessment and summative assessment purposes.
In addition the main lecture theatre has a lecture capture device installed.
My research will focus on the introduction of these new technologies and their impact on learning, teaching and assessment.
source: research@st-andrews