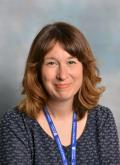 Dr Imogen Murray

Medical Demonstrator
LLB, 2008. University of Newcastle Upon Tyne
MBChB, 2014. University of Edinburgh.
Publications/ Presentations;
'The Postcode Lottery In perinatal mental health'. Scottish Forum on Perinatal Mental Health, April 2010.
'Suprapubic catheter insertion; what's the harm?'. I Murray, JF Donaldson, KJ Janjua, IDC Mitchell. Scottish Urological Society Annual Meeting, April 2016.
Teaching;
I am currently training to became an instructor on Advanced Life Support courses.
After fininshing my medical degree I completed my foundation training in NHS Fife and NHS Tayside. I completed rotations in general surgery, urology, stroke medicine, medicine of the elderly, anaesthetics and obstetrics and gynaecology.
data source: symbiosis