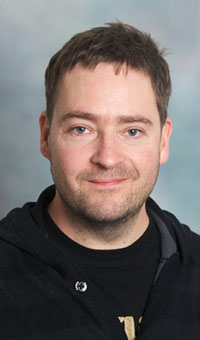 Mr Ian Gordon

Digital Media Developer
After obtaining a BSc (Hons) in Media Systems, I have worked in a number of different roles in media production including the creation and delivery of training materials, promotional videos and IPTV.
My interests with the School are mainly in the development of media assets for teaching. This includes video, photography and medical imaging. I have a growing interest in 3D design, modelling and rendering software and hope to find ways to include this technology as a resource for learning.
As part of the project with the College of Medicine in Malawi, I have helped with the purchase and installation of videoconference systems to help improve communication between sites and reduce the need for travel between campuses.
My responsibilities to the School are:
Maintenance and development of the Video Capture and Lecture Capture system
Maintenance and support of the AV Facilities
The production of video, eLearning and photography assets
Management of the Digital Signage and videoconference systems
Development of the School of Medicine website
data source: symbiosis
A research@st-andrews record is not available for ig51