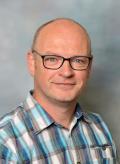 Mr Henry Rae

Senior Teaching Technician
I am a Registered Scientific Technician (RSciTech) and a winner of the Outstanding STEM Technician.
I came to the University of St Andrews in 1993, having formerly worked in industry as a workforce supervisor, which involved being responsible for the smooth running of the workforce, including staff training, discipline, quality control and logistics.
At the School of Medicine, I support medical teaching in the Multi Purpose Laboratory (MPL) in any way necessary. I am the Lead First Aider for the School of Medicine.
I am the Fire Officer for the Building and Deputy Security Officer. I am also responsible for all room keys in the building, the Medical School locker keys, all furniture and telephones.
I am an instructor and Medical Director for Heart Start and a Health and Safety Executive (HSE) First Aid Instructor. I train university staff in Emergency Life Saving and AED.
I am a member of the Higher Education Technicians Education and Development (HEaTED) organisation. I am also a course provider for HEaTED providing a Cold Castings course and Skeletal Articulation course.
I carry out work as a University Bank Worker and am employed by many departments. I mainly manufacture exhibits and props for exhibitions and research.
I have been trained in the following courses:-
As a Health and Safety Executive (HSE) "First Aid instructor".
As an "Automatic External Defibrillator" (AED) instructor for Heart Start.
"Train the Technical Trainer" Glasgow University.
"Immediate Life Support" Victoria Hospital Kirkcaldy.
"Sim Man Hi Fidelity simulator" Ninewells Hospital.
"Sim Man, Advanced Simulation" Victoria Hospital Kirkcaldy.
"Catheterisation" the University of St. Andrews.
"Venepuncture & Cannulation" Victoria Hospital Kirkcaldy.
"Hypodermic & Subcutaneous Infusion" Victoria Hospital Kirkcaldy.
"Blood Pressure" Victoria Hospital Kirkcaldy.
"Blood Glucose Monitoring" Victoria Hospital Kirkcaldy.
"Temperature Pulse and Respiration" Victoria Hospital Kirkcaldy.
"Fluid Preservation" for Museum Collections.
"Wax Model Conservation" National Museums of Scotland
"Cold Casting" Glasgow College of Building and Printing.
"Electrical Testing" Perth College held at the University of St. Andrews.
I have demonstrated to, or trained, staff, students and school pupils in a diverse range of subjects, including:
Tropical Rainforest ecology in Central America
Automatic External Defibrillation
Dynamic Lung Function
First Aid
Hearing
Visual acuity
Renal analysis
Reflexes
Blood pressure
Venepuncture
Blood glucose
Subcutaneous injection
Sim Man scenarios
School Roles
Technician for the Multi Purpose Medical Science lab
Technical Advisor
Fire Officer.
data source: symbiosis
0  (of 0 published available) for hhr. (source: University of St Andrews PURE)
Please click title of any item for full details