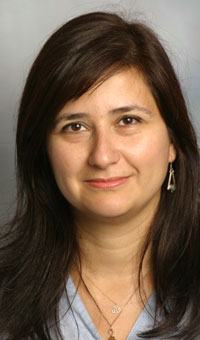 Dr Gozde Ozakinci

Senior Lecturer in Health Psychology
Graduating from Bogazici University (Istanbul) with a BA (Hons) degree in Psychology, I did my MSc in Health Psychology at University College London in 1998, exploring safer sex attitudes and behaviours among Turkish youth. I was awarded a PhD in Psychology in 2004 for my studies in genetic counselling and testing for BRCA 1/2 from Rutgers, The State University of New Jersey. My current research interests are in the area of health-related behaviour interventions for clinical and non-clinical populations (e.g., medical students) and emotional regulation interventions for patients who have completed cancer treatment.
In order to assist cancer survivors with high fears of cancer recurrence, in collaboration with Professor Gerry Humphris, I am currently exploring fears of cancer recurrence. I am also exploring appearance-based diet interventions in collaboration with Professor Dave Perrett from the School of Psychology, St Andrews, and a PhD student, Ross Whitehead, to improve the current rates of fruit and vegetable consumption. In addition, I am developing a research project on smoking cessation around the time of cancer diagnoses that captures behaviour change around the time of critical health events.
I teach behavioural medicine to medical undergraduates and also run communication skills workshops. I am also a module controller in our MSc in Health Psychology programme, focusing on health information, prevention, and decision making.
In order to reduce the burden of chronic diseases that are attributable to lifestyle factors, I develop and test novel interventions for health behaviour change. The specific areas of focus are diet, physical activity and smoking cessation. I also plan to develop and test the fears of cancer recurrence intervention in larger trials.
Para 3 – My School Roles
MD4002: Topic leader for People and Populations strand
Module controller: MD5004 – Health information, prevention, and decision making in MSc in Health Psychology
Overseeing Undergraduate Behavioural Science teaching
Ethics Committee: member
Organiser of the School of Medicine Seminar Series
Co-organiser of Work in Progress talks
data source: symbiosis
I am a health psychologist conducting applied research to help inform psychological support programmes for behaviour change and emotional support.
I work with multidisciplinary groups to directly inform on public health programmes and clinical practice. In particular,
I perform and develop: a. critical reviews, b. survey and interview research, and c. psychological support programmes.
I developed an internationally recognised research programme and leadership in:
1. Psychology of cancer patients and survivors: My research finds effective ways of assisting cancer patients with psychological issues, e.g., fears of cancer coming back.
2. Development of psychological approaches to change lifestyle behaviours: My research investigates effective ways to achieve health behaviour change (e.g., smoking cessation, diet/physical activity change) among young people and those with cancer and heart disease.
source: research@st-andrews