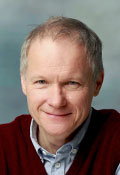 Prof Gerry Humphris

Professor of Health Psychology
I graduated from University of Reading (BSc Hons degree in Psychology), awarded a PhD from Guy's Hospital, University of London as a result of my investigations into parental and child attitudes and behaviour with regard to health. I obtained my clinical psychology training from Liverpool University (MClinPsychol) and worked as a NHS clinical psychologist before becoming a full-time Lecturer at the University of Liverpool in 1991, where I became the Director of Communication Skills for the School of Medicine. While at the University of Manchester, I continued my interest in health provider/patient communication before taking up the post of Chair in Health Psychology at the University of St Andrews.
My undergraduate and postgraduate teaching focuses on the application of psychological principles in the delivery of health care, with a link to cognitive and behavioural outcomes. I am keen to encourage the study of health psychology in medicine and other health care professions, including applied psychologists.
I continue to develop the field of communication and health. I collaborate with members of the European Association for Communication in Health Care, with partners in two recent EU projects (ORION, TRIP) http://www.st-andrews.ac.uk/dentalanxiety and a CIHR funded project (HeNCeLIFE) in Montreal.
The fields of health I concentrate on are oral health, head and neck cancer and health behaviour. Through the discovery of underlying processes to promote training and change in practice, I hope to demonstrate that the detailed analysis of person-to-person interaction improves outcomes.
School Roles:
Director of MSc Health Psychology
Convenor of School Ethics Committee
See also:
data source: symbiosis
The Humphris Group is interested in the psychological aspects of oral health including dental phobia, chronic facial pain and oral cancer. We have completed a controlled trial of a new intervention specifically designed for patients following treatment of orofacial cancer. The association of mental health status and various functions of the face following initial treatment, and the psychological effects of providing information about oral cancer to patients are our current fields of interest
source: research@st-andrews