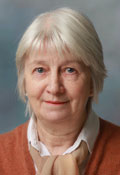 Ms Gillian Strugnell

Lecturer (Education Focused)
I followed a successful and varied career in nursing for the first 20 years of my working life. This culminated in ward management and finally clinical teaching after studying for a diploma in nurse education. I left this career to pursue a university education and later graduated from the University of Aberdeen with a BSc and an MSc. My BSc was nominally in anatomy. My MSc studies were conducted by research and involved microscopy, cell culture and immunostaining to explore features of the primary ciliium, an intracellular organelle. Subsequently I held two consecutive posts as a research assistant both concerning fish; the first on muscle growth in salmon, the second on oocytes in haddock. My skills in microscopy, cell culture and immunostaining along with the knowledge of embryology gained during my BSc. studies were all of use in these two posts.
I came to my current position in 2001 and find my multi-faceted background provides me with a broad insight into the world of medicine. I can envisage a situation at the bedside, in the clinic, the operating theatre, in the community hospital, in the GP practice and in the research laboratory.
I teach anatomy to first, second and third year undergraduate medical students in practical classes. I like small group teaching and believe this to be the best way for students to learn anatomy. This type of teaching allows each student to see how the components of the body are arranged in relation to each other. An understanding of the way the human body is structured is essential for appreciating the diversity of activities that a doctor will engage with, particularly when working with patients. To play a part in the foundation of the anatomical knowledge of some of the doctors of the future is a rewarding experience for me.
I am interested in the dissecting room as a parallel environment to the operating theatre and have started a research project concerning instrument handling skills in medical students.
My school roles are:-
Organiser of anatomy practical classes for MD2001, MD2002, MD3001, MD3002 and MD4001
DR lead
Organiser of the Surgery & Injury strand in MD4002
MD4002 supervisor
Personal tutor
UCAS screener
Interviewer of prospective students
Honorary departmental curator Anatomy & Pathology museum collection
data source: symbiosis