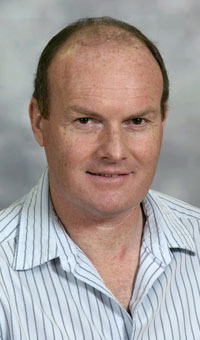 Dr Gordon Cramb

Reader
Departmental Duties:
School Safety Officer (Research)
Module controller MD3002
data source: symbiosis
Osmoregulation is key to the survival of all organisms, from unicellular bacteria and archae to multicellular plants and animals, including mammals and man. The physiological problems faced by any organism depend on the composition of the immediate external environment and the intracellular ion and solute composition required for normal cell viability, general health, growth and successful reproduction.  All organisms, whether unicellular or multicellular, have to sustain an intracellular ion and solute composition distinct from that of the extracellular fluid, whilst sustaining water homeostasis.  In multicellular organisms, the maintenance of this dis-equilibrium of solutes across biological membranes is mediated by the activity of a variety of ion, water and solute transporters, which are often selectively expressed and located within different membrane compartments of polarized epithelial cells.  The expression, location and function of these membrane transport proteins can often be regulated, both acutely and chronically, by a myriad of extracellular signaling molecules including hormones and neurotransmitters.  Studies in my laboratory have mainly focused on investigations of the functions of many transporters, channels and enzymes expressed within the epithelial tissues of euryhaline fish, which have been selected as models for the study of the control of ion and water transport across biological membranes.  These investigations have highlighted the functional roles of many genes in many tissues and their role in successful osmoregulation when euryhaline fish move between environments of different salinity (ie freshwater to seawater).  Studies have also highlighted a role for members of the gut peptide family, called guanylins, and their actions, both locally in the GI tract as well as in the kidney, have been investigated.  The peptides mediate their response by binding and activating an integrate membrane guanylate cyclase (type C) with concomitant increases in intracellular cyclic GMP.   An additional, and novel protein involved in as yet unknown signaling pathways within epithelial cells in the eel gut, and which has a role in protein expression, has also been identified in mammalian cells and tissues.  These signaling molecules, which are members of the phospholipase C super-family, are currently being investigated at the molecular levels in cells and tissues from both teleost and mammalian origins.
source: research@st-andrews