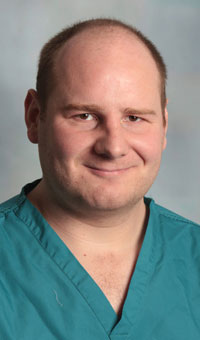 Mr Fraser Chisholm

Prosector
Fraser Chisholm graduated with a BSc in Human Anatomy for the University of Dundee in 2007. Since then he has gained experience working in technical roles in both Veterinary and Human Anatomy Departments.
Fraser joined St Andrews University in September 2012 with the remit of updating the Anatomy department's prosection collection as well as assisting in technical duties. Since then Fraser has taken on increasing teaching responsabilities
School Roles:
Teaching of Anatomy via Lectures and practicals
Creation of high quality Prosections for use in the teaching of Medical Undergraduates, Post graduates and Allied Health Professionals.
Overseeing technical activity in the Dissection Room
Maintenance and Preservation of Human Anatomical Material.
Maintenance of accurate records in accordance with Human Tissue (Scotland) Act 2006
data source: symbiosis
Bowness, J
, Turnbull, K, Taylor, A, Halcrow, J
, Chisholm, F
, Grant, C
& Varsou, O
2019, '
Identifying the emergence of the superficial peroneal nerve through deep fascia on ultrasound and by dissection: implications for regional anaesthesia in foot and ankle surgery
'
Clinical Anatomy
, vol. Early View.
https://doi.org/10.1002/ca.23323