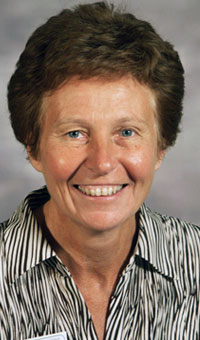 Dr Elizabeth Sinclair

Lecturer
Previous Appointments
Clinical Assistant DDS Medicines Research Ltd Ninewells Hospital and Medical School Dundee
Clinical Assistant in Apheresis Blood Transfusion Services Dundee and Edinburgh
Medical Registrar Tayside
Anaesthetic Registrar Glasgow and Fife Health Boards
School Roles
Lecturer in Clinical Medicine
Honorary Clinical Teacher Fife Health Board
Deputy Module Organiser MD4003
Deputy Lead Clinical Medicine Skills
Clinical Medicine Skills Programme Organiser
Clinical Medicine Placements Group
Medical Teaching and Learning Committee
Medical Teaching Steering Group
Medical Teaching Research Group
Supervisor for dissertation projects in Medicine and Therapeutics
Personal Tutor
Graduating from the Universities of St Andrews and Dundee in Medicine led me into an Anaesthetic career. Anaesthetics further developed my interests in Pharmacology and Transfusion Medicine. In addition to anaesthetics, I have also worked in the Dundee Apheresis Unit within the Scottish National Blood Transfusion Service. More recently, within a Phase 1 Research Unit in Ninewells Hospital, I have been involved in over 200 Clinical Phase 1 Drug Development trials. Over 40 years since graduation I have gained a wide experience in many areas of medicine and I have used this experience in teaching and integrating clinical medicine within the Medical School in St Andrews for 30 years. I feel that, in this context, my main achievement has been the embedding of clinical medicine and professionalism within the curriculum by the introduction in 1989 and, more importantly, the constant development, of the Clinical Medicine Strand including the MD4003 Clinical Medicine Module.
I am currently interested in the development of OSCEs as a comprehensive tool in the evaluation of Clinical Medicine Skills with particular emphasis on introducing, promoting and rewarding excellence rather than use of standard pass/borderline/fail examinations. I believe that all students should aim for excellence, not simple mastery of skills.
I teach Clinical Medicine to students in all 3 years of our curriculum. Initially I teach 1st year students introducing clinical methods within the security of the Medical School environment. As students progress through 2nd and 3rd years I move with them within the Fife Acute Hospitals to teach at the bedside. My varied experience enables me to cover a range of pathology. I very much enjoy both this progression of clinical teaching and, in particular, helping students to develop confidence within the hospital setting.
What I hope/expect to achieve in the short/medium/long term
As I approach retirement I would hope that my contribution would be to leave in place a comprehensive Clinical Medicine Strand which is well integrated within the School curriculum.
data source: symbiosis