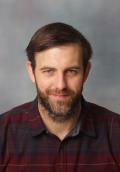 Dr Damien Williams

Lecturer in Public Health Sciences
I received a BSc (Hons, 1st Class) and PhD from the University of Bristol, and a MPH (Distinction) from the University of Manchester. I am an Associate Fellow of the Higher Education Academy and a Fellow of the Royal Society for Public Health. I have worked in industry, undertaken consultancy work, and held a number of teaching and research posts prior to taking up a Lectureship in Public Health Sciences at the University of St Andrews.
My broad interests are in violence and violence prevention, health promotion and equity, and community development (i.e. assets-based approaches). I am also involved in teaching, tutoring, and supervisory activities on the BSc in Medicine, MRes in Medicine, MSc in Health Psychology, and MSc in Global Health Implementation, and the supervision of PhD and MD researchers.
My aim is to apply my varied experiences and enthusiasm to the development of the future generation of critical thinkers and radical practitioners.
My roles and duties include:
Programme Director of the MSc in Global Health Implementation (follow this link for programme details: http://medicine.st-andrews.ac.uk/postgraduate/mscglobal/)
Public Health lead/co-ordinator on the BSc in Medicine
Personal tutor on the BSc in Medicine
BSc in Medicine dissertation supervisor
Communication skills tutor and assessor on the BSc in Medicine
Practice of Medicine tutor on the BSc in Medicine
Public Health lecturer on the BSc in Medicine
Member of the MD3001 assessment committee on the BSc in Medicine
Lecturer and dissertation supervisor on the MSc in Health Psychology
Lecturer and dissertation supervisor on the MRes in Medicine
Member of the postgraduate teaching committee
Member of the postgraduate staff-student consultative committee
PhD and MD supervisor
Lecturer on the International Foundations of Medicine programme
Principal investigator/researcher
data source: symbiosis