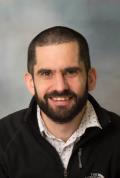 Dr Derek Sloan

Senior Lecturer
Dr Derek Sloan is a newly appointed Senior Clinical Lecturer and Consultant Infectious Diseases Physician with a joint appointment at the University of St Andrews and NHS Fife. He has previously worked extensively in southern Africa. In 2004, he was worked as a clinician at PCEA Chogoria Hospital in Kenya and supported set-up of an HIV clinic which provided comprehensive roll-out of anti-retroviral therapy for the first time in the district. From 2005-6 he was Senior Medical Officer and Tuberculosis (TB) Lead for Hlabisa sub-district in kwaZulu Natal, South Africa where the dual burden of HIV and drug-resistant TB had become a public health crisis. Subsequently, he completed a Wellcome Trust funded PhD fellowship at the University of Liverpool Institute of Global Health and Liverpool School of Tropical Medicine. His work there was on the clinical pharmacology of TB treatment, and included 2.5 years of combined clinical and academic work in Blantyre, Malawi. During that time he was also an Honorary Lecturer at the University of Malawi College of Medicine, and edited "The Clinical Book", a practical pocket textbook of local management protocols for common adult medical conditions that still acts as a standard guide for medical students, clinical officers and doctors across the country. In 2015, he spent 3 months in Sierra Leone working as clinical lead on the UK-Med Quality Monitoring Team, supporting the NHS contribution to the Ebola Virus Disease outbreak in West Africa. His ongoing research interests are targeted towards clinical therapeutics questions of global public health significance, particularly in the treatment of tuberculosis and other infections.
data source: symbiosis
I have worked in both high and low income countries, accruing extensive experience in the management of infectious diseases, particularly tuberculosis (TB). I have successfully obtained research grant funding and completed a Wellcome Trust fellowship in Liverpool and Malawi, culminating in the award of a PhD from the University of Liverpool.
My research is targeted towards clinical therapeutics questions of global public health significance. Presentation and publication of my work has resulted in Young Investigator Awards and prizes at major international conferences. I have ongoing projects on the clinical pharmacology of anti-TB drugs, PK-PD modeling of responses to anti-microbial therapy and programmatic interventions to reduce mortality from infectious diseases in low resource settings.
I also have an interest in the acute management of infectious disease outbreaks, and supported the UKMed/NHS response to the Ebola Virus Disease epidemic in West Africa in 2015.
source: research@st-andrews