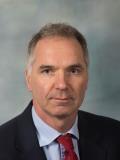 Mr Clive Masson

Executive Administrator
After graduating from the Royal Military Academy Sandhurst, I was an Infantry Officer for 22 years. During this time, I was employed in a range of leadership, management and policy roles: a tour as liaison officer to the warring factions in Bosnia; four years commanding a 120-strong company on operations in Northern Ireland, Bosnia, Iraq and the Falklands; two years as second-in-command of the 1 SCOTS Battle Group on operations in Iraq; and two years writing and delivering the Army's Pre-Deployment Training Policy.
I have a MA in Defence Management from Cranfield University Business School and attended the Advanced Course at the Joint Services Command and Staff College. Latterly, I was the Finance Director at 52 Brigade.
I was appointed to the post of Executive Administrator at the School or Medicine, St Andrews University in 2009.
Within the School of Medicine, I manage the school's support functions: the operation of the building, governance of students, information management and student Fitness to Practise.
School Roles
Information Management
Building Management
governance of students
Disclosure Officer
Fitness to Practise
data source: symbiosis
A research@st-andrews record is not available for dcm10