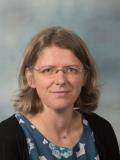 Dr Anita Laidlaw

Senior Lecturer (Education Focused)
Graduating from the University of Edinburgh in 1997 with a BSc (Hons) degree in Biology, I was awarded a PhD in 2001 for a thesis on a behavioural model of itch from the Medical School, University of Newcastle Upon Tyne. Thereafter I completed cognitive behavioural postdoctoral research in the School of Psychology and Neuroscience, University of St Andrews.
Following my move to the School of Medicine, University of St Andrews my interest in why we respond behaviourally to our environment and cues within it now focuses on healthcare communication (verbal and non-verbal) and the factors that influence it - an interest I explore in both my teaching and research. Previous research includes investigating the impact of social anxiety and facial expression perception on medical students' communication abilities. I expect to expand these interests in future by examining the role of facial expressions within clinical interviews in more detail, and how, in light of these findings, we can improve training.
I also have an interest in pedagogical research. I run the Medical Education Group within the School of Medicine and I am co-director of the Centre for Higher Education Research within the University. I am also an Associate Director of the Scottish Medical Education Research Consortium (http://www.smerc.org.uk/). My specific interests include assessment and training of clinical communication, psychological wellbeing in undergraduates and resiliency.
I am involved in teaching clinical communication and health psychology to all three medical undergraduate years and run the MD5002 Health Psychology MSc module 'Quality of life, communication and chronic illness'.
School Roles
Module controller: MD5002
Deputy module controller: MD3002
Teaching Management: Convenor of Clinical Communication Skills
Personal Tutor
data source: symbiosis